Gurushri
Kubernath Appaswamy Tanjorkar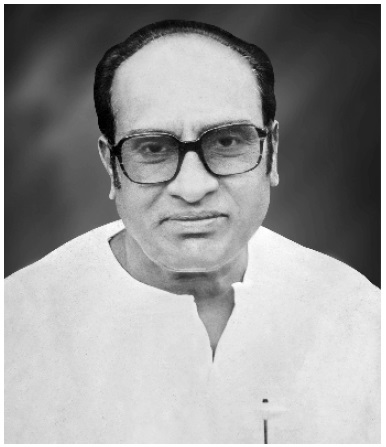 The universal truth given by Lord Krishna in " B H A G W A D G I TA " i . e . K a r m a n y a Vadhikaraste --- stands true when we study the Life of Gurushri Kubernath Appaswamy Tanjorkar, an authority of Bharatnatyam. He not only performed this dance, but also dedicated his life for the sake of this art. Today he is no more but his principles and image are well preserved and maintained to be continued by his family. He was religiously follower of this art in its classical, pure Gurukul form without any compromise. Some may call it as 'Rigid' but this rigidness is a must when one has to learn any art. Take an example of 'Vocal' if one does not follow the basic rules, it becomes semi-classical.
Gurushri Kubernathji was born in 1917. As we say that the Art is in his blood, his grandparents, mother and father were all Bharatnatyam artists. He was fortunate that the basic learning started at an early age. Very few know that he was a very good MRIDANGAM player as well. In his youth he studied Bharatnatyam under the famous Gurushri Meenakshi Sundaram Pillai (Grandson of great Ponniah Pillai of Tanjore
extends help to those activities which works for the true uplift and spread of Bharatnatyam. He saved many of his outstanding compositions, which were totally designed and composed by him. Few name are "Sankshipt Bhagwat", "Radha-nu- Shamnu", "Meera Bhajan", "Navkar Mantra", "Bhukhana Bhujang", "Damaru", "Eta Irandu Pesum" and "Madhurashtakam", These items are applauded very highly when presented in the Programmes of our Institute as well as other sponsored programmes. He travelled to South Africa, United States, United Kingdom, France and many other places in Europe. The years of pains taken by him for Bharatnatyam were appreciated by President of India in 1993 and was awarded "SANGEET NATAK AKADEMI AWARD" He was also recipient of "GUJARAT SANGEET NATAK AKADEMI AWARD", "SARANG DEV AWARD" of Mumbai "TRIVENI AWARD", "SANSKARBHARTI AWARD", "ITC AWARD"
Quartet) at his Gurukul. With Bharatnatyam learning he had also learnt Carnatik Classical Sangeet under the training of Gurushri Balkrishna Pillai. The hard work and strict discipline of years had shaped him perfectly. He had also studied Hindustani Classical music under famous Aftab-E-Mausiki Ustad Faiyaz Khan of Agra Gharana. In 1941 he was appointed as Dance-Teacher in Bhatkhande College of Music, Lucknow. An artist is never satisfied in one place. He always kept on moving like flowing water. He came back to Vadodara and was appointed as Nattuvanar' (Bharatnatyam Director) in the Royal Court of Baroda State from 1948 to 1950. Finally he was selected as Professor of Dance in the Faculty of Performing Arts of M. S. University of Baroda in 1950 and from there retired in 1981.
After retirement from the service, as he said he was totally free to fulfill the ambition of his life and the result was establishment of "Tanjore Nritya Shala" in 1983 and later on in 1993 the Public Trust 'Tanjore Dance Music and Art Research Centre'. Knowledge does not increase if kept at one place; It is always to be shared, to pass on to next generation. He trained thousands of students and many outstanding like Late Kum. Pratibha Pandit, Late Madhubhai Patel, Smt. Ilakshi Thakor, Smt. Neha Parikh (Canada), Smt. Parul Patel and many more.
He founded the 'Tanjore Dance Music and Art Research Centre' and presently it has achieved remarkable strength. Till this day so many students from our institute have performed 'ARANGETRAL'. The main aim behind this establishing Trust is the age-old compositions, which are precious from the art point of view, he wished to propagate and spread this for a wide sphere. This trust
and many others. Gurushri welcomed those who were sincere, dedicated for the sake of Bharatnatyam because Bharatnatyam was his life and for which he lived for. Even though Guru Shri Kubernath A. Tanjorkar is no more between us, his inspiration is always with us encouraging us to continue his legacy carried on successfully by his family and students. Presently, apart from our Main Dance Centre at Waghodia Road, Vadodara, this institute has its branches at Tirupati balaji mandir, Silvassa, Shri L. G. Haria Multipurpose School, Vapi - Silvassa Road, Vapi and Nizampura in Vadodara. On Nov. 08th, 2009 to commemorate Guruji for his achievements and dedication in Baratnatyam Dance, VMSS has named the stretch of the road from Uma Char Rasta towards Kaladarshan as "Gurushri Kubernath Tanjorkar Marg". He is the first Bharatnatyam Guru and Nattuvanar in India who has received such honour.
Late Gurushri Kubernathji's two Grand Sons, Shri Rajesh with wife Smt Shivshankari and Shri Ashish with wife Smt. Priya (sons and Daughetrs-in-Law of Gurushri Ramesh Kubernath Tanjorkar) joined with their full interest to the activities established by Gurushri Rameshji to fulfill the dreams of his father Gurushri Kubernath Tanjorkar. At present under the guideline of Gurushri Rameshji and Gurushrimati Leelaji all of them are running very successfully their schools at Vadodara, Vapi and Sivassa.
Shri Rajesh and his wife Shrimati Shivshankari are running their school at Nizampura, Vadodara and at Vapi and Silvassa according to strict instructions of Gurushri Rameshji and Principles laid down by Late Gurushri Kubernath Tanjorkar
Likewise Shri Ashish and his wife Shrimati Priya are also with good confidence conducting Tanjore Nritya Shala at Waghodiya Road, Vadodara.
Thus all the members of Tanjorkar family are actively involved in the spreading the Art Of Bharatnatyam.
TRAINING SPECIALITIES OF OUR INSTITUTE
Guru Shri Kubernath Tanjorkar after retiring from the services of M.S. University in 1981 wanted to devote his rest of the life for the pure Tanjore style of BHARATNATYAM and it's spreading to all over India and Abroad. With view in mind he established TANJORE NRITYA SHALA in 1981. It strongly believes in Gurukul Style and discipline and the same is followed strictly in main class at Waghodia Road which now has got it's branches at various places. There are almost 500 girl students at present undergoing the pure TANJORE style of BHARATNATYAM. Gurushri KubernathjiTanjorkar was Managing Trustee of TANJORE DANCE MUSIC AND ART RESEARCH CENTRE when he was alive.
The Gurukul Training of Bharatnatyam through the Traditional Tanjore Gharana is in 4 "S"
OBEJCT system which is as under :
S..............SOLO ...............Infrastucture development of individual
S..............SHRINGAR ......Shringara Bhava as Major in Bhakti
S..............Short ................Short Sollukattu (Rhythm)
S..............Speed...............Speed of Performance is developed in students with unique Nattuvangam, to create tempo in dance.
TRAINING SPECIALITIES OF OUR INSTITUE :
* We explain South Indian Composition to the students in best way in Gujarati, Hindi,Marathi & English Languages.
* We develop Rhythm sense on foot Right from Basic steps training in the child.
* We teach short Abhinaya items right from the 1st year.
* We concentrate on development in important characteristic of Bharatnatyam i.e. Eye expression from very beginning.
* We develop sense in the child, in understanding of good and melodious music.
* We develop sense in the child in understanding of complicated Karnataka Talas.
* We shape outside students also, other than our Institute in best level of Bhava, Raga, and Tala in our specially introduced short term course by Guru Shri Ramesh Tanjorkar i.e. directly going to Choreography and Abhinaya in Tanjore style without beginning with basic steps, and primary items.
We provide training for Certification as under :-
(1) Government Certification from 'Akhil Bhartiya Gandharva Maha Vidyalaya Mandal.
(2) Certification from 'The Tanjore Dance Music and Art Research Centre'.
(3) Certification from any other institute for Margam training.
(4) Getting opportunities to trained students to prove their abilities before audience at National & International Level.
---